Past projects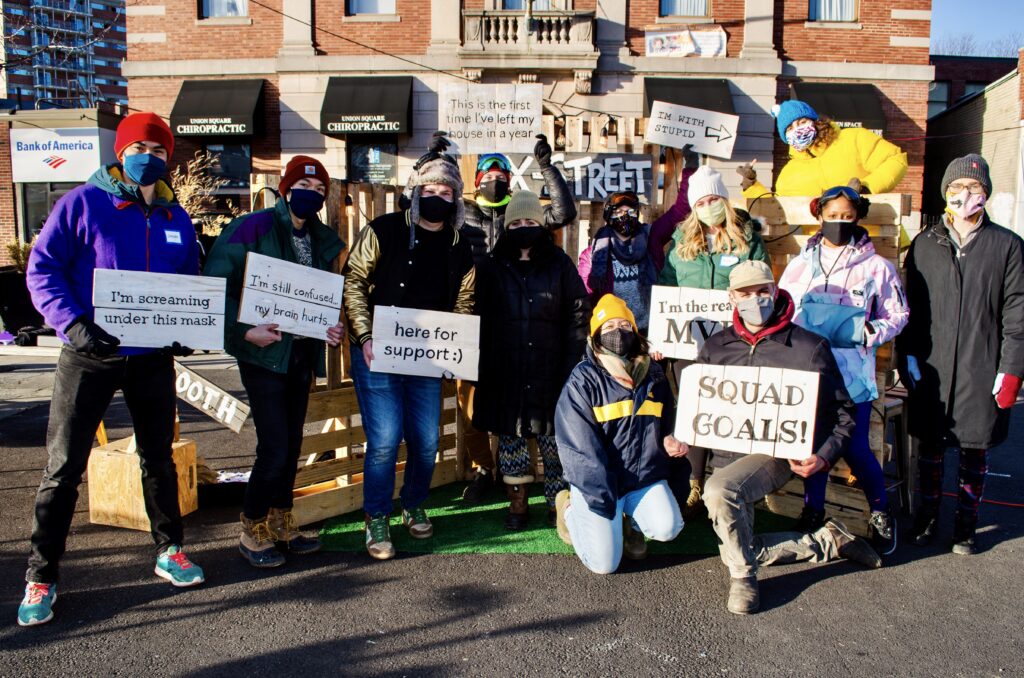 X-Street
March 6, 2021
Union Square, Somerville, MA
In partnership with Outdoor Afro we created a socially distant, outdoor event that brought over 40 people through a 5 stop urban scavenger hunt throughout Union Square. While navigating COVID, we were able to connect people with their neighbors and local businesses, bring life and vibrancy safety back to the streets, and share many laughs and smiles under masks.
Partners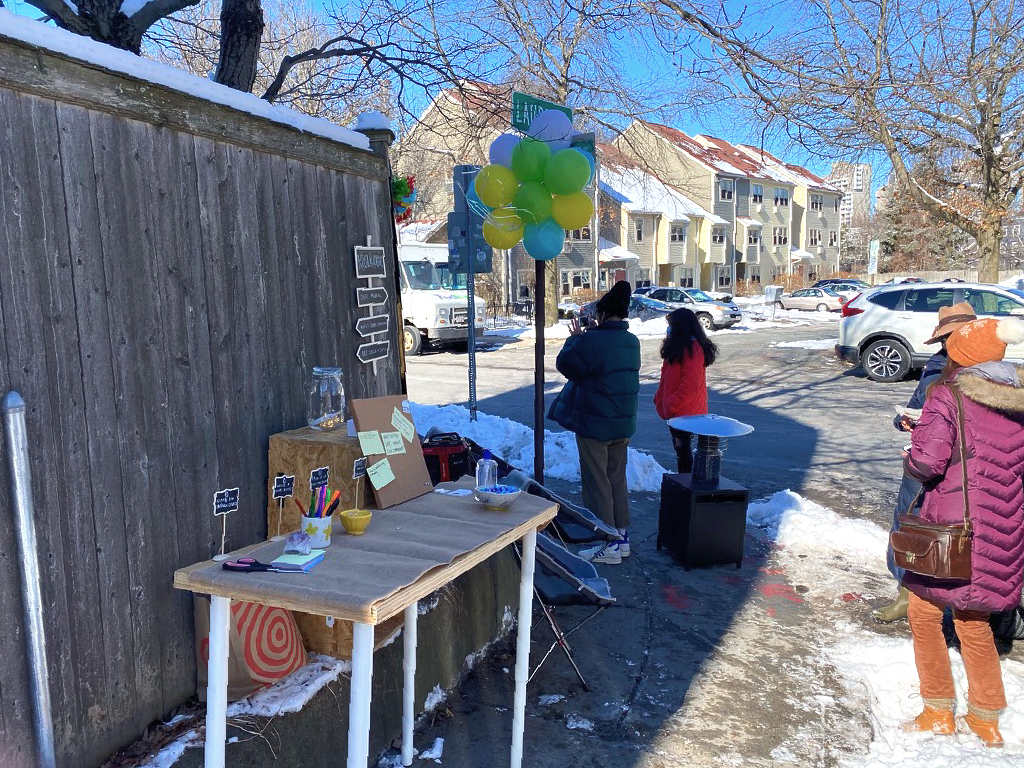 Mural Unveiling
February 21, 2021
18 Laurel Street, Cambridge, MA
We joined the Community Art Center for an unveiling of their new mural, providing a hang-out space and opportunity for community engagement.
Partners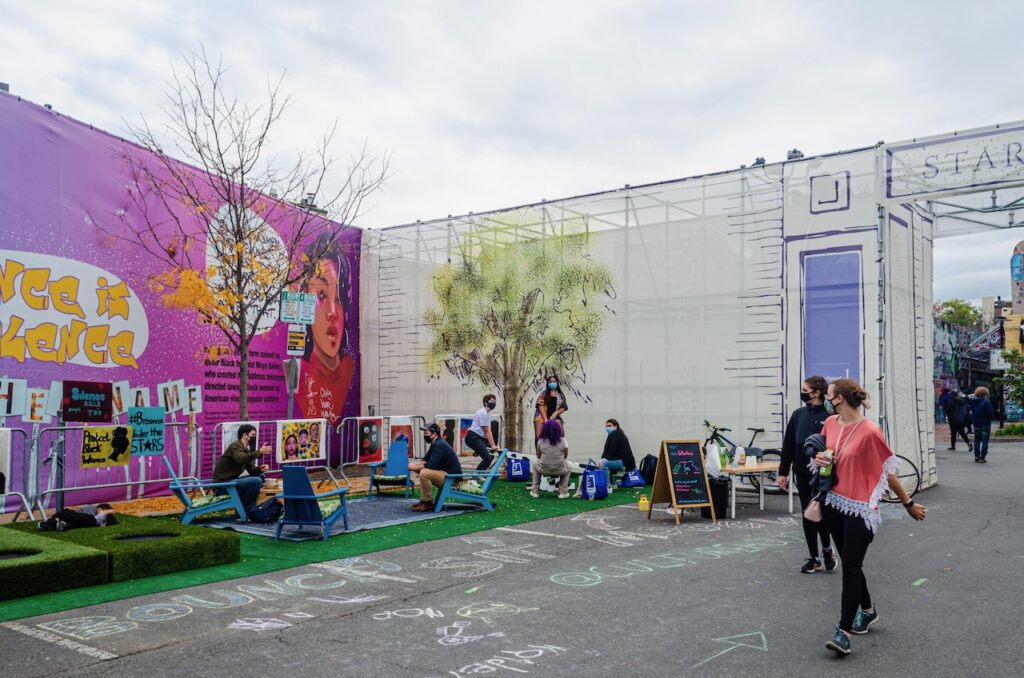 Starlight Square
October 24, 2020
84 Bishop Allen Drive, Cambridge, MA
We popped-up at Starlight Square on October 24th, 2020 from 12–4 pm as part of Popportunity, a weekly market of local vendors run by the Central Square BID! We brought our famous outdoor living room to the event—a place where people of all ages can come by to play, hang out, and warm-up. We had trampolines, fresh cider, and our brand new seesee-sawsaw.
Partners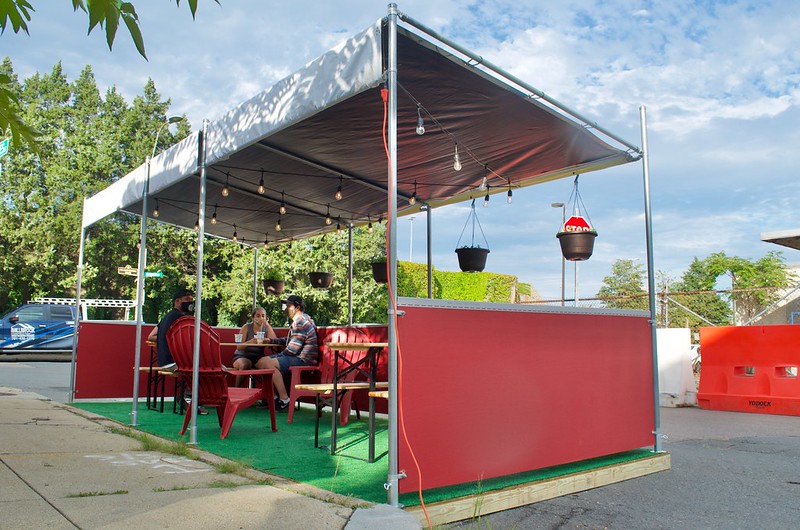 Tawakal Outdoor Seating Parklet
September 2020
389 Maverick Street, Boston, MA
As in-person activities abruptly halted due to COVID-19, we turned our expertise to outdoor spaces. Our first project, a collaboration with CommonWealth Kitchen, was an outdoor seating parklet we installed at Tawakal Halal Cafe in East Boston. We developed an adaptable, repeatable, and affordable 8′ x 20′ design, consisting of two large picnic-style tables a safe distance away from each other, a canopy allowing guests to enjoy the space in all weather conditions, lights, and live herbs and spices you can put right on your food. In addition, we created an open-sourced how-to guide for anyone to create their own parklet!
Partners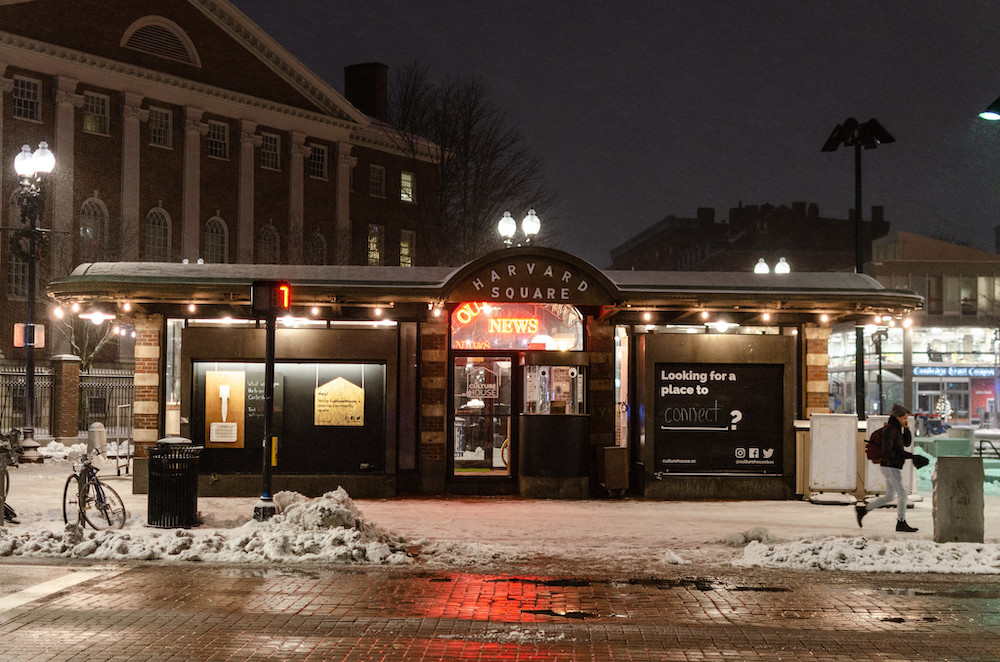 December 2019 – July 2020
0 Harvard Square, Cambridge, MA
Housed in the former Out of Town News Kiosk in the heart of Harvard Square, CultureHouse Harvard was a pop-up community space that welcomed all and served as an experimental home for trying out new uses of urban public space. Over the course of the eight months we were in the Kiosk, we facilitated inspiring interactions, learned invaluable lessons, and created positive impact. At CultureHouse Harvard, we created a space where unhoused people were treated with dignity, tested out numerous different uses of the Kiosk space, and introduced a human presence to the Square. Read our impact report for CultureHouse Harvard on the project page.
Partners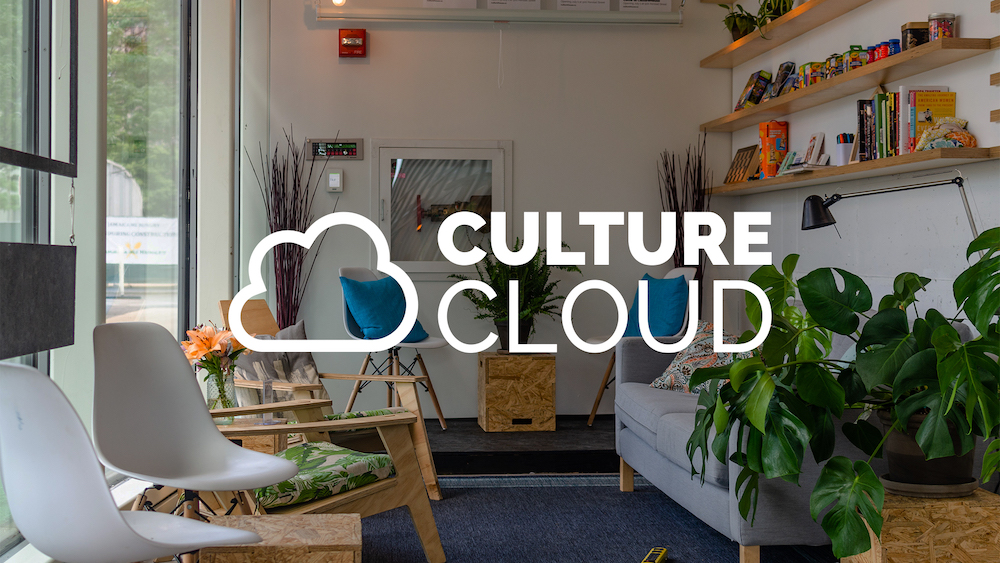 CultureCloud
March 2020 – July 2020
When COVID-19 disrupted in-person gathering, we launched a new virtual pop-up, CultureCloud. Rather than filling a commercial vacancy, we filled some of the vacancies in your schedule where community gatherings used to be. We live-streamed events, supported local organizations, and provided opportunities for people to connect. The website is available as an archive but is no longer updated.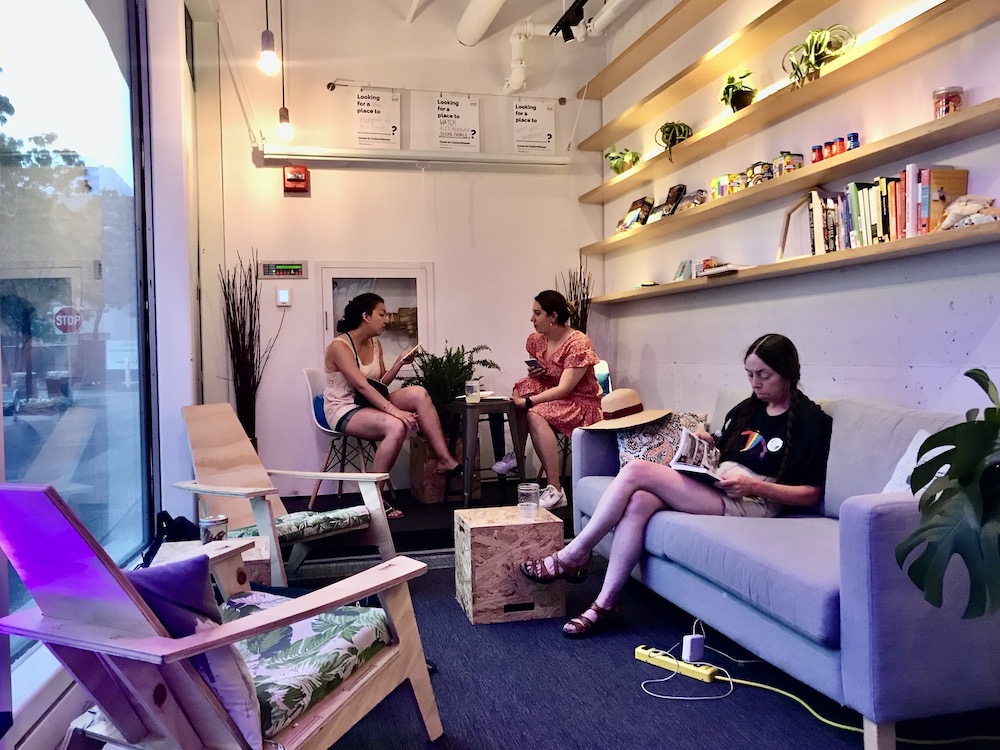 July 2019 – March 2020
500 Kendall Street, Cambridge, MA
Over the course of nine months, CultureHouse Kendall provided space to gather, added vibrancy, and drew people to the Canal District. The pop-up was a radical experiment in creating vibrancy in a place that was lacking it. The response we got from the community was overwhelming, demonstrating the need for more social infrastructure in the area. Read our impact report for CultureHouse Kendall on the project page.
Partners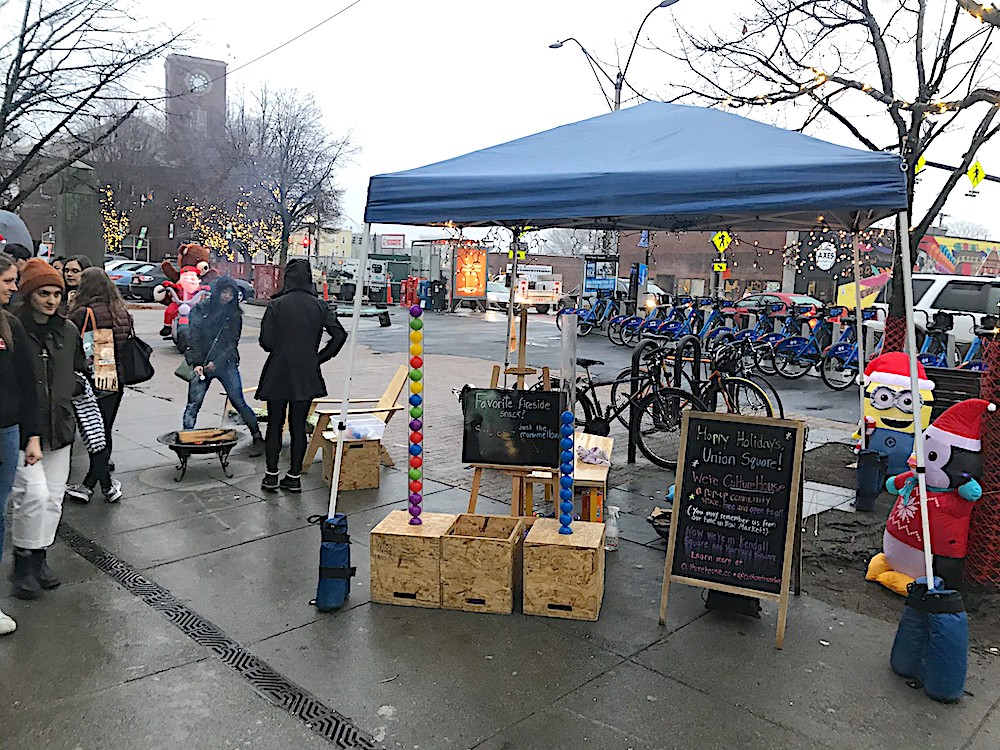 Holiday Stroll
December 14, 2019
Union Square, Somerville, MA
For the second year in a row, we returned to Union Square for the Holiday Stroll! We brought back the fire pit and, despite a little drizzle, everyone had a great time.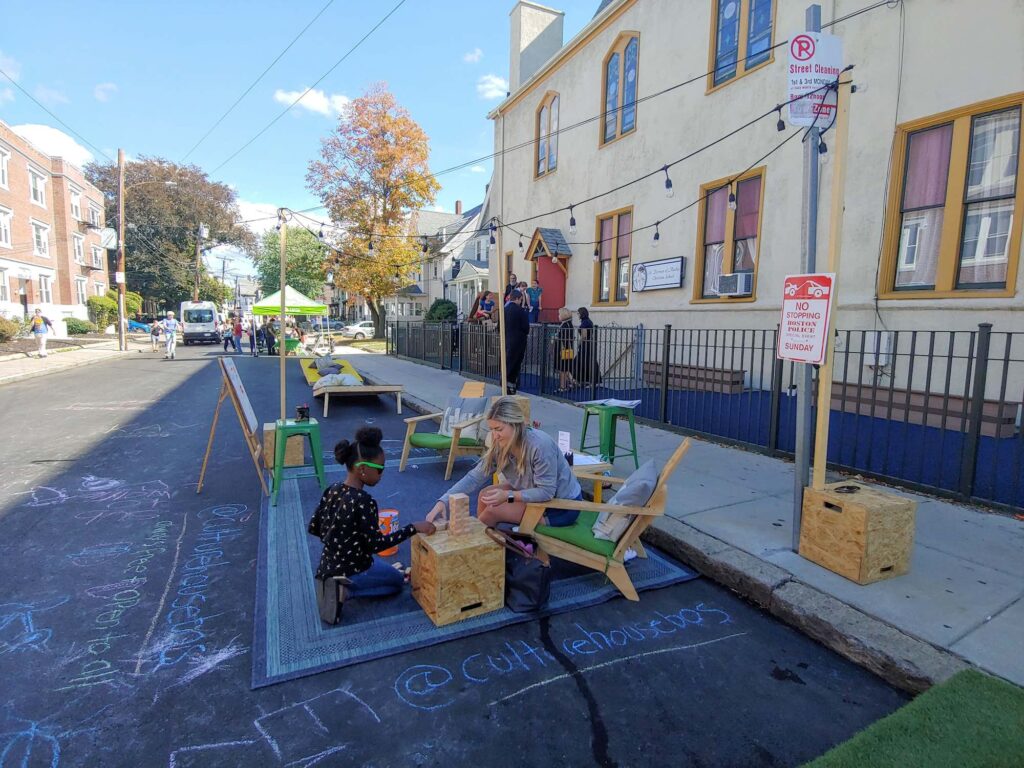 Allston Village Street Fair
September 29, 2019
Farrington Street, Allston, MA
We popped-up at the Allston Village Street Fair with a space to chill, bounce, and have a conversation.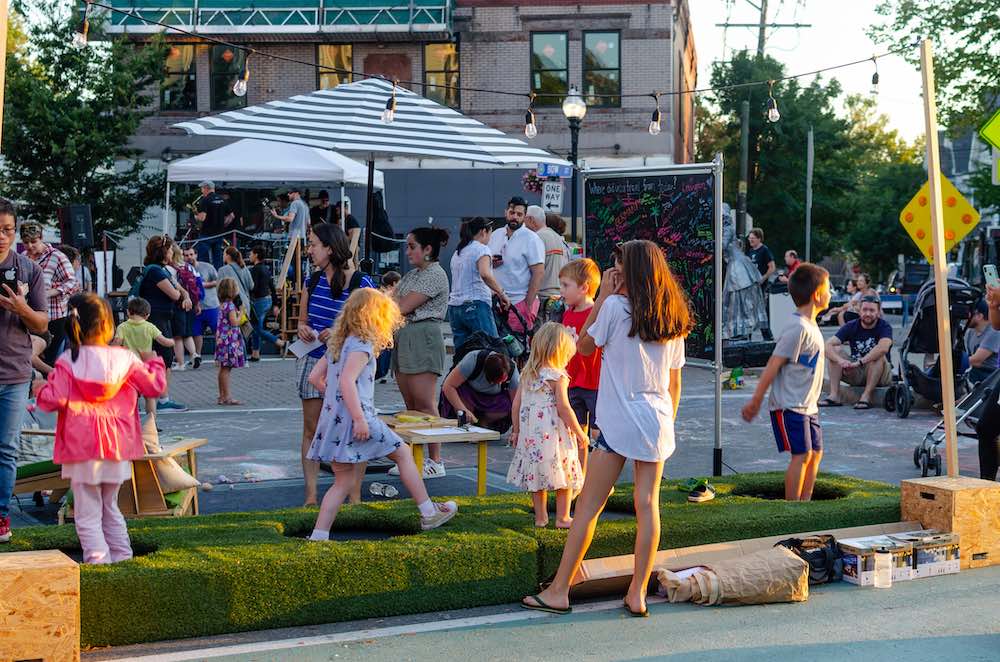 Fluff Festival
September 21, 2019
Union Square, Somerville, MA
We popped-up at Fluff Festival for a day of bouncing off all the Fluff on our trampolines and relaxing in a chair while you slip into your food coma.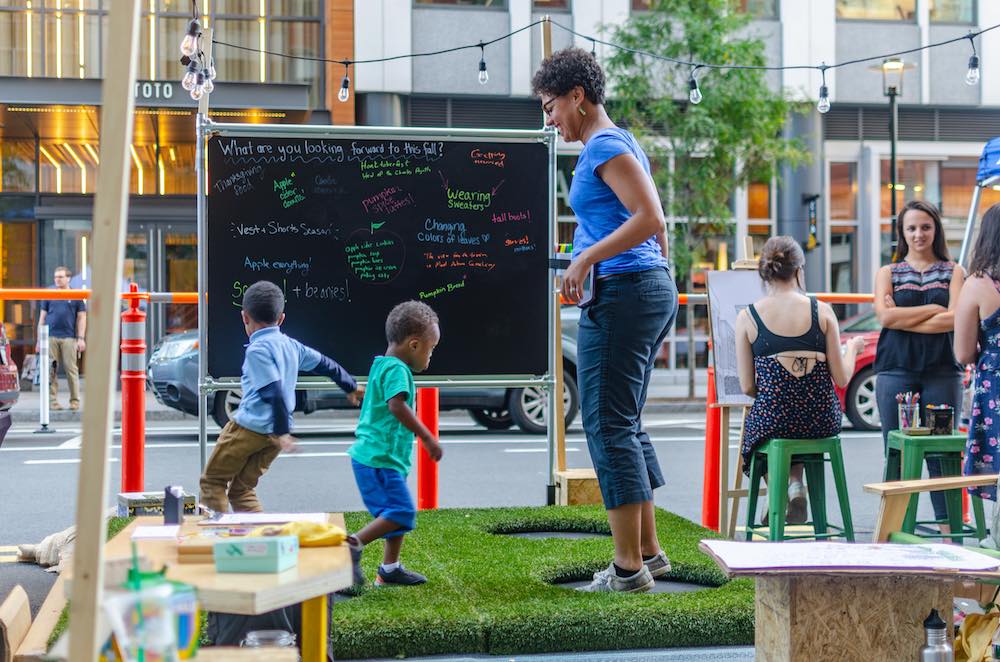 PARK(ing) Day
September 20, 2019
Ames Street, Cambridge, MA
With support from the Cambridge Arts Council, we made our much-anticipated (by us, at least) return to PARK(ing) Day in Cambridge with trampolines, a place to sit, and more!
Partners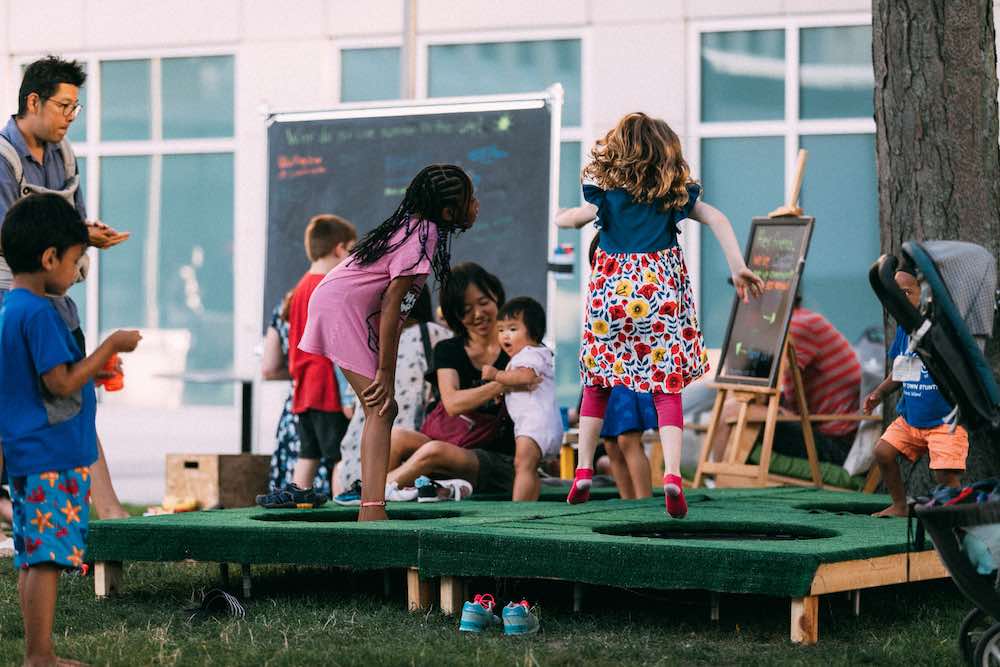 Movie Nights
August 2019
Cambridge, MA
In collaboration with the Cambridge Arts Council, we popped-up at two evening outdoor movie nights, providing a place to jump, play a game, color, and spend time with family.
Partners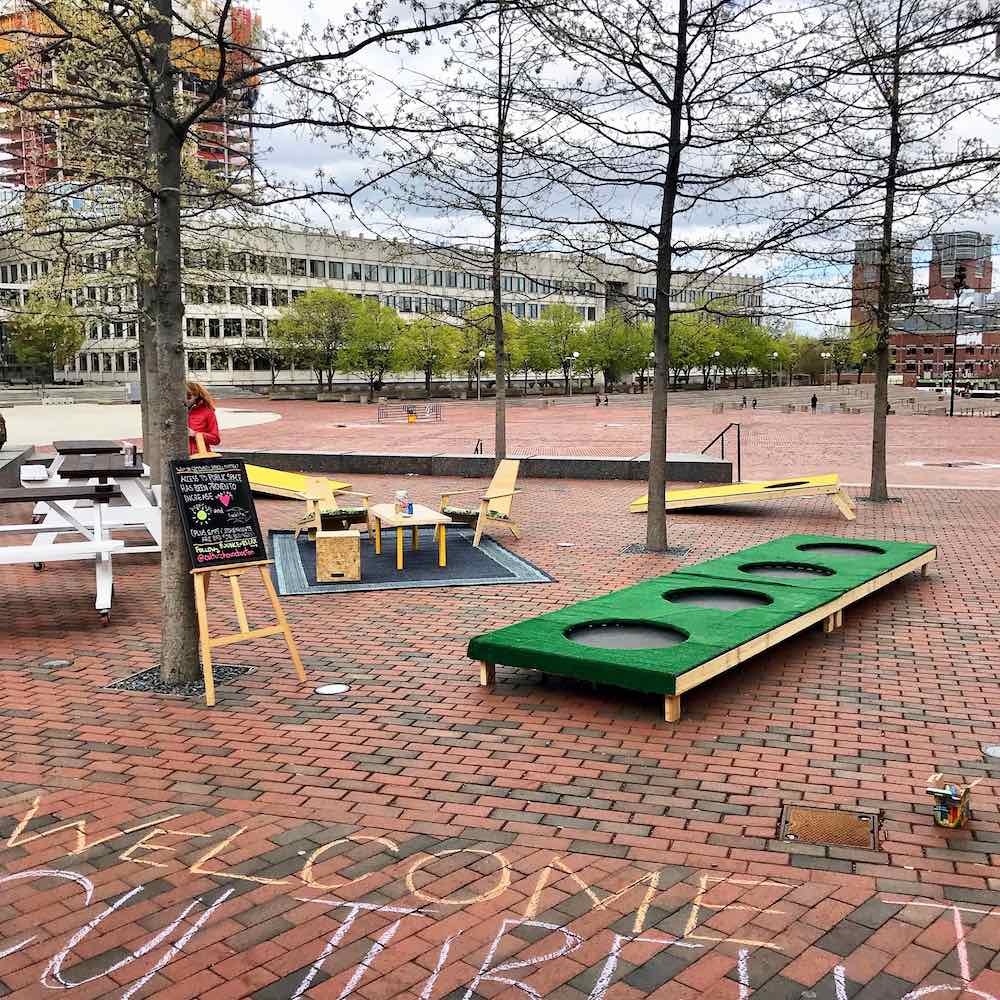 City Hall Plaza
April 20, 2019
City Hall Plaza, Boston, MA
With the support of the Boston Mayor's Office of Arts & Culture, CultureHouse brought GIANT corn hole, trampolines, and a living room complete with a pop-up pupper to City Hall Plaza. It was a day of fun in the midst of the busy city where visitors jumped, played, and learned about the importance of human scale in urban design.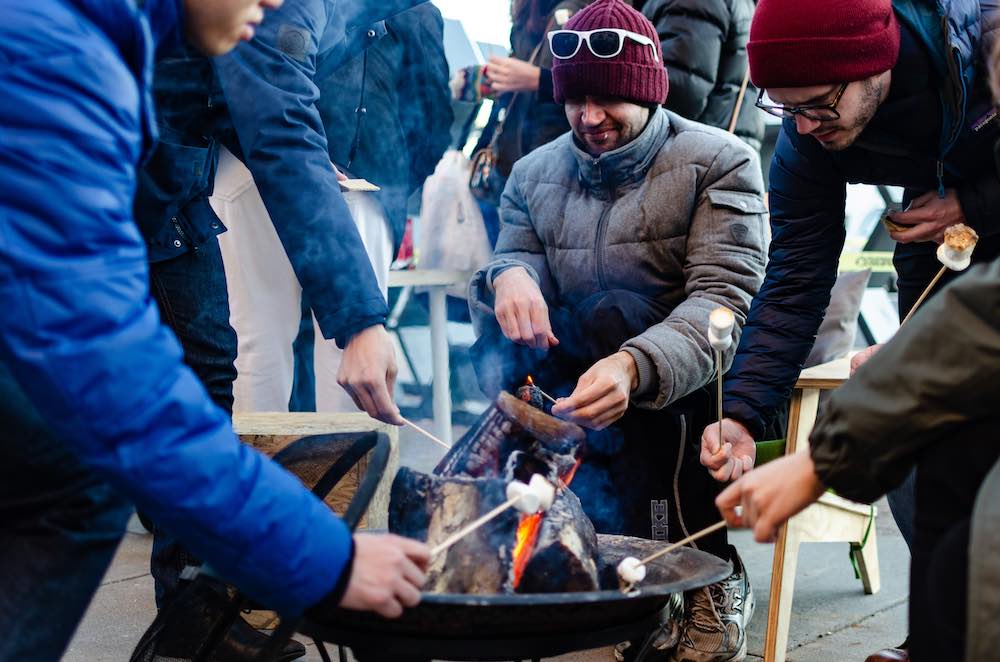 Union Square Holiday Stroll
December 2018
Union Square, Somerville, MA
CultureHouse brought warmth to the Union Square Neighborhood Association's Holiday Stroll, putting a fire pit in our living room and smores in our bellies. In the cold depths of winter, its more important than ever to leave your house and spend time with friends, family, and assorted strangers.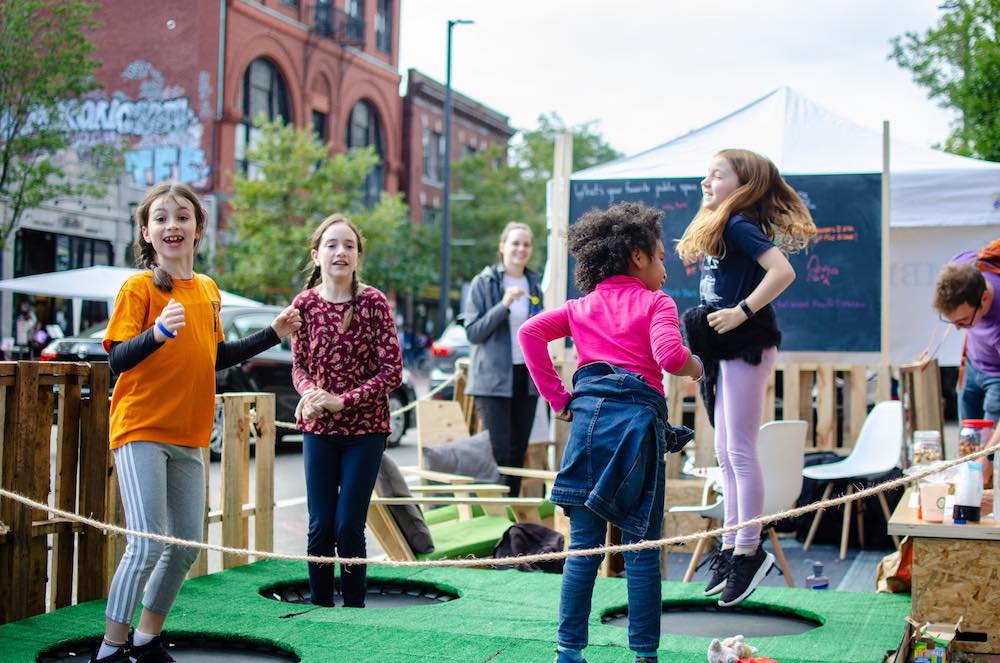 Cambridge PARK(ing) Day
September 21, 2018
Central Square, Cambridge, MA
CultureHouse joined the Cambridge Community Development Department's PARK(ing) Day celebration, the local expression of a global movement to reclaim parking spaces for people. Our pop-up living room, complete with games, trampolines, and snacks, was just one of many amazing temporary parks created by community members.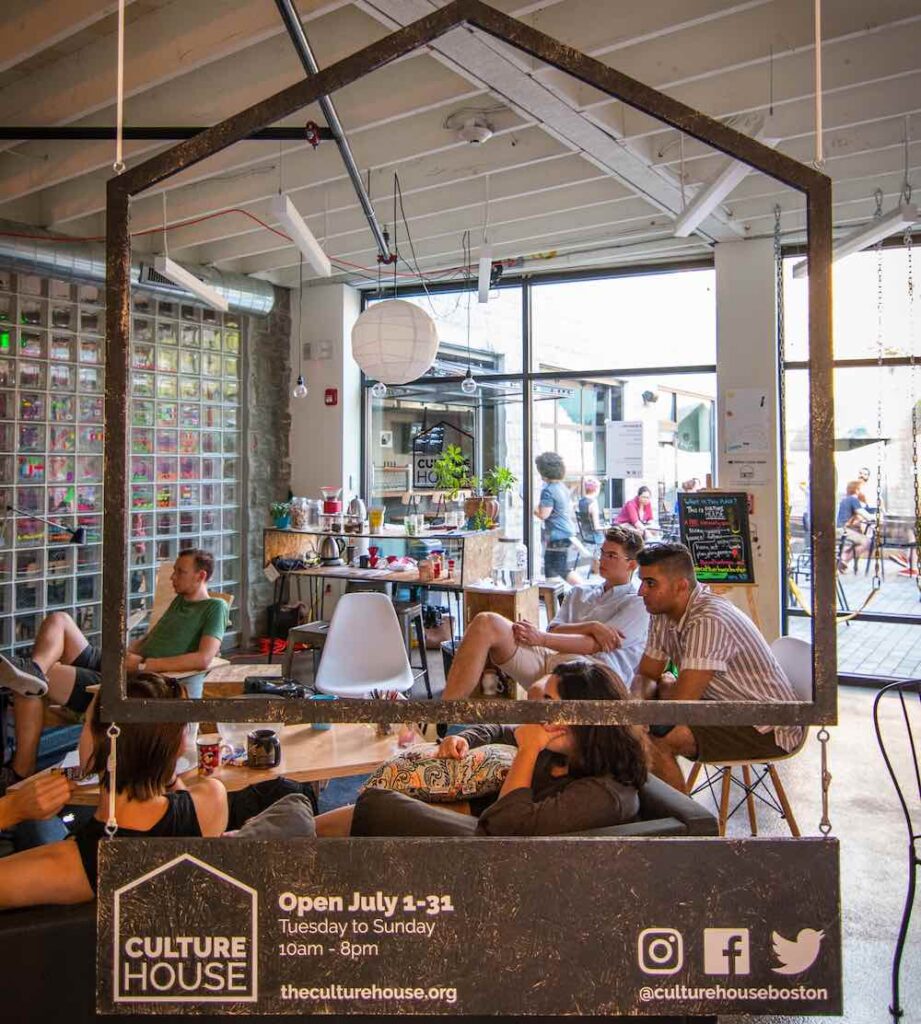 Bow Market
July 2018
Bow Market, Somerville, MA
CultureHouse opened our first indoor community space at Bow Market in Union Square, Somerville. This one-month iteration allowed us to test out our ideas, garner feedback, and reflect on our progress. With swings, games, books, and trampolines, it wasn't hard to sell the space to kids – but it was just as easy to convince adults that it was time to play! Read our recap of the impacts of the space on Medium.
Partners
Allston
April 8, 2018
Jackson Mann Plaza, Allston, MA
Our second pop up, at Jackson Mann Plaza in Allston, enabled community members to interact with each other and learn more about CultureHouse and our girls. We hosted our living-room pop up filled with seating, games and warm beverages for the cool April day. This pop up alerted us to a very important issue: the need for a dog-friendly space at CultureHouse!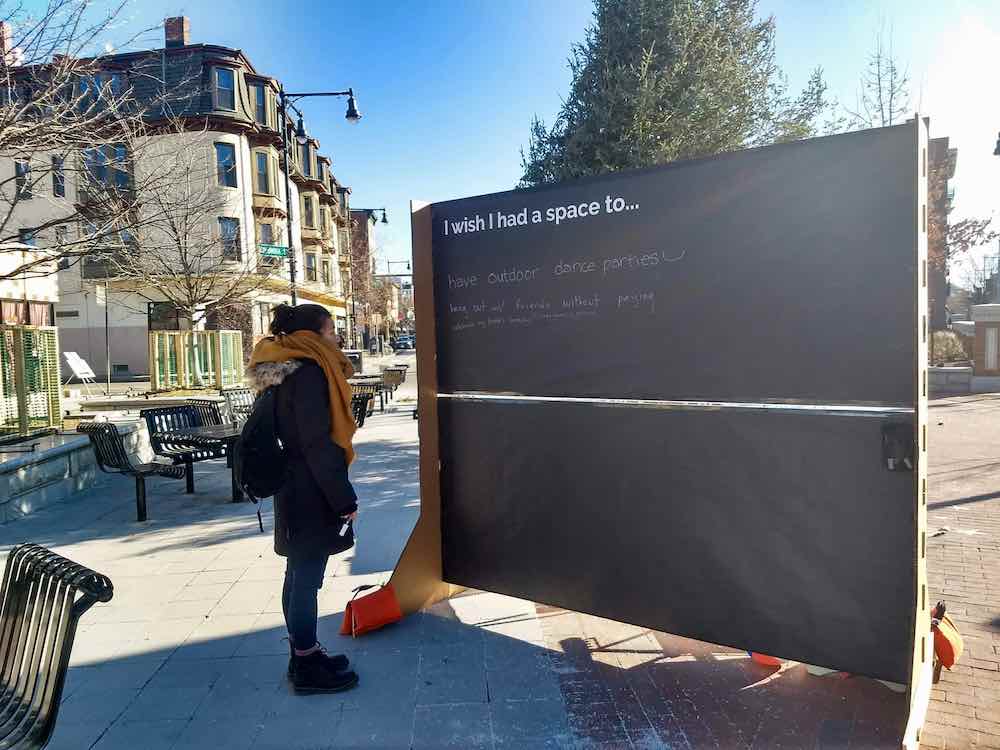 Central Square
December 18, 2017
Lafayette Plaza, Cambridge, MA
For our first-ever pop-up, CultureHouse set up an outdoor living room in Lafayette Plaza in Cambridge's Central Square. Despite the 28˚F weather, visitors loved our living room, our tropical beach-themed photo booth, and our large prompt board – demonstrating the need for more welcoming public spaces and more activation of outdoor spaces in the winter months. Check our recap of the pop-up here.